Expires April 28, 2120 23:59 PST
Buy now and get 22% off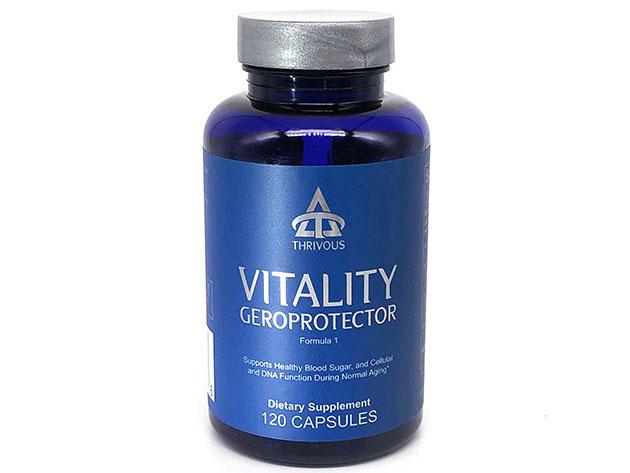 KEY FEATURES
Thrivous developed Vitality Geroprotector based on the best scientific evidence from multiple peer-reviewed human studies – the gold standard of health science. Based on an extensive analysis of clinical research they have developed formulas around only the most effective nutrients and doses to enhance blood sugar and cell function for better aging. Vitality Geroprotector provides a month supply (120 capsules) of the best natural geroprotectors, including clinical doses of Berberine, Blueberry (Anthocyanin), Coenzyme Q10 (CoQ10), and Milk Thistle (Silymarin). With multiple rounds of rigorous quality control and strict GMP regulations, Vitality Geroprotector is certified with premium quality and safety.
Berberine supports healthy blood sugar & metabolic function
Blueberry supports healthy DNA & genetic function
Coenzyme Q10 helps w/ healthy mitochondria & cellular function
Note: Customers must be 18 years old+ to purchase
Optimal dosage of Vitality Geroprotector may vary based on your size and sensitivity. Thrivous recommends starting with a low dosage and experimenting with higher dosages over time. Do not exceed the recommended maximum dosage. Thrivous recommends Vitality Geroprotector to healthy adults. This product is not intended to diagnose, treat, cure, or prevent any disease. Consult a physician before and during use.
PRODUCT SPECS
Specs
Ingredients: Berberine Hydrochloride, Blueberry Fruit Extract, Coenzyme Q10, Milk Thistle Fruit Extract, Cellulose
Capsules: 120
Seving size: 4 capsules
Servings per container: 30
4 capsules daily with meals
Maximum dosage: 16 capsules/day
Vegan capsules
Includes
Vitality Geroprotector (120 capsules)